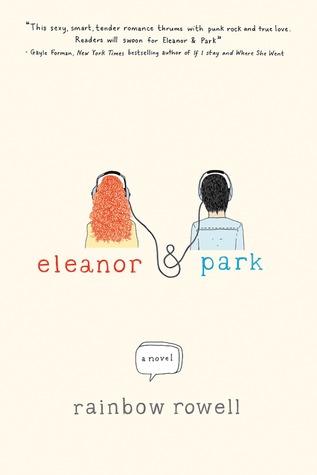 Judul : Eleanor & Park
Sub Judul : -
Serial : -
Penulis : Rainbow Rowell
Penerbit : St. Martin's Griffin
Tahun Terbit : Februari 2013 (pertama kali terbit pada April 2012)
Tebal : 320 halaman
ISBN : 978-125-00-0312-11
Genre : Young Adult
Format : ebook
Status : -
Periode Baca : 05/09/2013 - 18/05/2014
Blurb
:
Two misfits. One extraordinary love
.
Eleanor...
Red hair, wrong clothes. Standing behind him until he turns his head. Lying beside him until he wakes up. Making everyone else seem drabber and flatter and never good enough... Eleanor.
Park...
He knows she'll love a song before he plays it for her. He laughs at her jokes before she ever gets to the punch line. There's a place on his chest, just below his throat, that makes her want to keep promises...Park. Set over the course of one school year, this is the story of two star-crossed sixteen-year-olds—smart enough to know that first love almost never lasts, but brave and desperate enough to try.
Review
Park Sheridan adalah remaja putra keturunan Irlandia - Korea, punya wajah yang lebih tepat dikatakan cantik daripada ganteng, kulitnya putih layaknya keturunan Korea, dan berasal dari keluarga harmonis. Sementara Elenaor adalah remaja putri keturunan Denmark - Scotlandia, gemuk, jelek, berpakaian aneh, lebih sering memakai pakaian pria seperti kemeja gombrong serta dasi, dan berasal dari keluarga broken home.
Keduanya dipertemukan takdir di dalam bus sekolah. Saat itu Eleanor seorang murid baru yang langsung mendapatkan berbagai macam julukan/ejekan. Karena penampilannya yang aneh tidak ada yang bersedia untuk memberikan tempat duduknya di dalam bus tersebut. Dengan berat hati Park memberikan tempat duduk hanya karena bangku disebelahnya kosong dan supir bus menyuruhnya memberikan bangku kosong tersebut kepada Eleanor. Selama beberapa waktu setiap pulang-pergi sekolah tak ada satu pun dari mereka yang berinisiatif memulai percakapan. Berdua mereka saling diam. Hingga suatu ketika Park memergoki Eleanor membaca komiknya diam-diam. Hal itu berlanjut hingga Park mulai meminjamkan komiknya pada Eleanor. Percakapan antara mereka mulai terjalin walau hanya sebatas tentang komik. Park kemudian meminjamkan walkmannya pada Elenaor karna menurutnya Eleanor harus tahu lagu-lagu keren apa saja yang ia dengarkan. Tak disangka ternyata selera musik Eleanor mirip dengannya.
Tapi kedekatan mereka tidak pernah ketahuan oleh siapa pun hingga akhirnya Park terlibat perkelahian dengan teman sekolahnya karena si teman menghina Eleanor. Sebenarnya hubungan mereka bukanlah backstreet karena Eleanor sendiri sering bertandang ke rumah Park dan mengenal semua anggota keluarga Park seperti ayah, ibu, Josh (adik Park), hingga kakek-nenek Park. Sementara Eleanor sendiri tak pernah mengenalkan Park dengan anggota keluarganya. Jika Eleanor akan menghabiskan siang/sore di rumah Park maka ia akan berbohong kalau ia ke rumah teman perempuannya. Walau dalam kenyataannya si teman perempuan yang disebut Eleanor adalah orang yang paling dibencinya. Ya... selain tak punya teman, Eleanor juga kerap di-bully di sekolah.
Elenaor berbohong kepada keluarganya tentang Park karena ia tidak ingin ayah tirinya mengethaui hubungannya dengan Park. Si ayah tiri begitu membenci Eleanor bahkan ia pernah mengusir Eleanor dari rumah tanpa sebab. Sementara ayah kandung Eleanor dengan jelas mengatakan kalau ia tidak ingin mengurus Eleanor.
Namun serapi apa pun Eleanor menyimpan rapat hubungannya dengan Park, ayah tirinya tetap tahu dan kini hubungan mereka terancam pisah akibat si ayah tiri.
Eleanor and Park adalah kisah cinta remaja yang mengambil setting tahun 1980-an tepatnya pada tahun 1986. Berbeda dengan YA lain buku ini beralur lambat hingga cenderung membosankan bagi beberapa orang. Hal yang sama berlaku juga untuk kisah cintanya. Awalnya bahkan mereka tak pernah saling suka. Saling berkeberatan harus duduk bersama. Saling memiliki julukan-julukan tertentu pada lawan bicaranya. Hingga akhirnya mereka menemukan kesamaan. Sama-sama suka membaca komik dan punya selera musik yang mirip. Setelah saling suka pun pernyataan cinta diantara mereka pun tidak terlalu cepat terucapkan. Pokoknya tidak ada yang cepat dibuku ini kecuali tendangan taekwondo Park.
Sayang lagu-lagu kesukaan Eleanor dan Park tak begitu sesuai dengan selera musik saya :|
"Wow, what's up with her. She looks like she just killed somebody for fun."
Park whipped his head around. Eleanor. Smiling at him.
She had the kind of smile you see in toothpaste commercials, where you can see practically all of somebody's teeth. She should smile like that all the time, Park thought; it made her face cross over from weird to beautiful. He wanted to make her smile like that constantly.
Mr Stessman pretended to fall against the chalkboard when he walked in. "Good God, Eleanor, stop. You're blinding me. Is that why you keep that smile locked away, because it's too powerful for mortal man?"
She looked down self-consciously and flattened her smile into a smirk. (Chapter 17)
Favorite Quotes
"Eleanor was right. She never looked nice. She looked like art, and art wasn't supposed to look nice; it was supposed to make you feel something." (Chapter 28 - Park Sheridan)
"Holding Eleanor's hand was like holding a butterfly, or a heartbeat. Like holding something complete, and completely alive." (Chapter 15 - Park Sheridan)
"Life is bastard. But it's up to us. It's up to us not to lose this." (Chapter 53 - Park Sheridan)
2 untuk Park Sheridan
1 untuk Eleanor
1 untuk Mr. Stessman
@ Medan
19052014