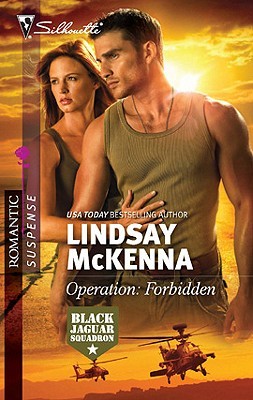 Judul :
Operation : Forbidden
Sub Judul : -
Serial : Black Jaguar Squadron #2
Penulis : Lindsay McKenna
Penerbit : Silhouette Books
Tahun Terbit : Maret 2011 (pertama kali terbit pada Februari 2011)
Tebal : 224 halaman
ISBN : 978-1-4268-8828-1
Genre : Military Romance
Format : ebook
Status : -
Periode Baca : 13/08/2014 - 15/08/2014
Rate : 4/5 stars
Blurb : Helicopter pilot Captain Emma Cantrell has a chance to clear her military record in war-torn Afghanistan. She's not about to let anyone get in her way--especially Afghan Captain Khalid Shaheen. Emma can't deny Khalid is total eye candy. But she's fallen prey to his kind of charm before--and she never makes the same mistake twice.

Khalid's fight against the insurgents makes him a target, but his need for justice runs deep. He can't jeopardize this perilous mission by falling for Emma, but he soon finds that might be a losing battle. And when Emma is kidnapped, can Khalid rescue her in time to give their love a fighting chance?
Review
Karier militer
Kapten Emma Cantrell
tercoreng akibat perbuatannya yang melanggar aturan militer. Silsilah keluarga Emma yang berkarier di dunia militer turun-temurun dan penuh dengan prestasi kini tercoreng akibat perbuatannya. Atasan Emma tempatnya bertugas saat ini di Afghanistan meminta Emma untuk membantu pilot helikopter lain dalam sebuah operasi selama enam bulan. Emma dipilih karena kemampuannya berbahasa Pashto, bahasa asli Afghan, jauh lebih baik dibanding pilot lainnya.
Operasi itu bernama
Operation Book Worm
yang dipimpin oleh
Kapten Khalid Shaheen
, seorang keturunan Afghan - Irlandia. Operasi itu merupakan operasi sosial dimana Emma dan Khalid menerbangkan helikopter ke suatu desa untuk membagikan bantuan keperluan sekolah bagi anak-anak desa. Tak hanya misi sosial, bersama dengan bantuan tersebut juga ikut personel angkatan bersenjata lengkap karena desa tempat berlangsungnya misi rawan serangan Taliban, yang tidak ingin anak-anak perempuan mendapat pelajaran resmi di sekolah.
Operation Book Worm merupakan inisiatif dari Khalid dan adiknya,
Kinah
. Mereka berdua terlahir dengan orangtua yang kaya raya, mengenyam pendidikan di Amerika Serikat (bahkan Kinah lulusan Harvard), dan kini Kinah punya cita-cita untuk membebaskan kaum perempuan di negaranya dari buta huruf dan keterbelakangan. Itu sebabnya operasinya bernama Operation Book Worm karena lebih terpusat di sekolah-sekolah.
Sejak awal perkenalan, Khalid dan Emma sama-sama menyadari kalau mereka tertarik satu sama lain. Wajar saja. Dengan darah Afghan - Irlandia yang mengalir dalam diri Khalid, bisa dibayangkan betapa gantengnya dia. Tapi jika mereka menjalin hubungan dan tidak sampai enam bulan kemudian hubungan tersebut putus, misi Operation Book Worm akan gagal total dan karier Emma akan habis.
Di lain pihak, Khalid pun punya masalah yang tak jauh berbeda. Sejak kematian calon istrinya Khalid bertekad untuk tidak menjalin hubungan lagi dengan perempuan mana pun jika musuh besarnya, Asad Malik seorang anggota Taliban, belum mati. Dua tahun yang lalu,
Najela
calon istri Khalid, diperkosa secara keji dan dibunuh oleh Asad Malik. Target Malik memang menghancurkan Khalid dan keluarganya karena ia menganggap apa yang mereka kerjakan membawa pengaruh buruk bagi rakyat Afghan.
Ketika Emma berhasil diculik oleh Malik, Khalid pun kembali mengalami mimpi buruk. Nyawa hidup dan mati orang yang dicintainya sekali lagi berada di tangan Khalid. Tapi Khalid lupa, Emma adalah seorang prajurit. Ia tidak akan menyerahkan begitu saja.
My Thought
Suka deh dengan novel roman yang satu ini. Dari awal emang sudah ada ketertarikan diantara mereka. Jadi nggak perlu ada istilah aku-benci-tapi-sebenernya-cinta-kamu yang terkadang bikin bosan.
Entah kenapa ya kok novel ini rasanya lebih romantis gitu dibandingkan karya Lindsay McKenna yang lain yang pernah saya baca. Mungkin juga karena faktor tokoh utamanya yang seorang turunan Arab, jadi ya teringat dengan pangeran-pangeran Arab ala dongeng Disney dan Hollywood yang super ganteng, kaya raya dan jantan gitu dehhhh... XD Atau mungkin juga karena Khalid punya hobi membaca buku khususnya buku-buku puisi dari Rumi, filsuf terkenal itu. Jarang kan ketemu tokoh utama yang seorang militer tapi juga doyan baca buku.
Oh ya.. dibuku ini ada beberapa kali terselip kalimat "Assalamu'alaikum" dan kata "Allah". Tapi sih nggak berarti kalau buku ini tentang orang Islam meski di beberapa bagian dijelaskan tentang kebiasaan hidup orang Afghan dan masyarakat muslim. Khalid sendiri punya orang tua Muslim dari ayahnya yang asli Afghan dan ibunya seorang warga Irlandia yang masih menganut agama Kristen. Jadi Khalid ini sudah terbiasa hidup berbaur.
Emma sendiri juga digambarkan cukup sering berinteraksi dengan masyarakat muslim Afghan sehingga ia cukup paham tata krama mereka. Beberapa kali dikatakan kalau Emma sering memakai penutup kepala (hijab) ketika akan turun dari helikopter.
Emma nodded. "Yes, every religion has its fanatics. In my year here in Afghanistan, I've lived among the Muslims and I find them incredibly generous and caring. They aren't the terrorists that the world thinks. They believe in peace." (Ch. 8)
Ada beberapa ucapan dari Khalid yang menjadi favorit saya :

"Reading is a way to open a person's heart. It shows care, respect and love." (Ch. 15)

Sometimes, we have one door shut in our face. But as soon as that happens, another will open. That is the way it is." (Ch. 15)

"We have one another, Emma. The world might unhinge, but we love one another. And with love, we can get through anything. Together." (Ch. 15)
@ Medan
15/08/2014