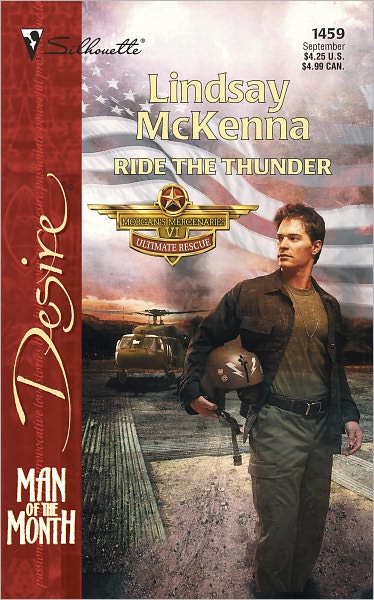 Judul :
Ride The Thunder
Sub Judul : -
Serial : Ultimate Rescue #2
Penulis : Lindsay McKenna
Penerbit : Silhouette Books
Tahun Terbit : Juni 2009 (pertama kali terbit pada tahun 2002)
Tebal : 192
Genre : Military Romance
Format : ebook
Status : -
Periode Baca : 01/07/2014 - 05/07/2014
Rating : 2/5 stars
Blurb :"A woman in my bed is one thing. But in my cockpit? Hell, no!" --Lieutenant Nolan Galway, United States Marine Corps.

Sharing flight duty with beautiful Lieutenant Rhona McGregor was dangerous. But with lives at stake in the earthquake-shattered L.A. Basin, Nolan didn't have time to argue. He needed a copilot, and he'd just have to draw on his military discipline to keep his desires in check. But from their first death-defying flight, Nolan realized he and Rhona shared something even more powerful than passion. For suddenly his hard heart thundered with something that felt perilously like love....
Review
Gempa besar yang menerjang L.A. membuat semua orang panik. Banyak orang yang kehilangan tempat tinggal dan membutuhkan bantuan. Sementara lokasi gempa tak memungkinkan untuk ditembus dengan menggunakan kendaraan darat karena terletak di lembah. Satu-satunya harapan untuk mendatangkan bantuan hanyalah melalui jalur udara dengan menggunakan helikopter.
Letnan Nolan Galway
adalah salah satu pilot helikopter yang ditugaskan untuk membawa bantuan. Bersama co-pilotnya Nolan setiap hari terbang hingga batas terbang 12 jamnya terpenuhi. Sayang beberapa hari kemudian co-pilot Nolan masuk rumah sakit karena keracunan makanan. Kini Nolan harus mencari co-pilot pengganti agar ia bisa bertugas seperti biasa.
Peraturan mewajibkan agar setiap pilot didampangi oleh seorang co-pilot agar mereka bisa saling bergantian membawa heli agar batas terbang 12 jam terpenuhi sempurna. Namun sulit mencari seorang co-pilot pengganti karena setiap pilot yang tersedia sudah memiliki jadwal kerjanya masing-masing. Saat itulah
Letnan Rhona McGregor
datang menyelamatkan Nolan.
Sebenarnya Nolan amat sangat keberatan dengan kehadiran Rhona sebagai co-pilot penggantinya. Baginya Rhona adalah warga sipil mantan angkatan udara yang menawarkan diri untuk membantu US. Marine Corps dalam penanganan bencana ini. Selain itu dia juga seorang perempuan. Yang artinya setiap saat mulai dari di dalam kokpit hingga berbagi tenda untuk istirahat harus dilakukannya bersama Rhona.
Sementara Rhona punya cerita tersendiri tentang pilot laki-laki. Ia pernah bertunangan dengan seorang pilot laki-laki yang berharap setelah mereka menikah Rhona akan berhenti dari karier militernya dan menjadi ibu rumah tangga. Rhona menolak mati-matian ide tersebut dan pertunangan mereka putus. Setelah kejadian itu, anggota skuadron Rhona yang notabene laki-laki mulai mempersulitnya. Ia meminta agar dipindahkan ke skuadron yang mayoritas perempuan, namun ditolak. Ia pun memutuskan untuk berhenti dari dunia militer.
Kini ketika L.A. sedang dilanda bencana, Rhona datang menawarkan bantuan untuk menerbangkan salah satu helikopter yang tersedia. Namun lagi-lagi ia mendapatkan pilot bertipe manusia gunung seperti mantan tunangannya.
Tapi ternyata Nolan salah memandang Rhona. Ia bukanlah pilot perempuan sembarangan. Bahkan Nolan harus mengakui dengan berat hati kalau Rhona lebih jago menerbangkan helikopter dibandingkan dirinya. Karier militernya yang dulu pun punya jejak yang cukup membuat pilot lain kagum. Ia pernah terlibat langsung dalam perang Irak. Dan di mata para pilot, pilot-pilot yang pernah berada di garis depan perang adalah orang-orang hebat.
Ketika nyawanya terancam akibat para pemberontak yang menyusup, Nolan baru menyadari kalau selama beberapa minggu bersama Rhona, ia mulai jatuh cinta pada pilot perempuan itu. Hanya saja kini tak ada waktu untuk mengungkapkannya karena nyawanya berada di ujung tanduk. Sebuah pistol berisi peluru berada di pelipisnya siap untuk ditembakkan jika ia tidak bersedia memberi tahu keberadaan Rhona pada para pemberontak.
My Thought
Sebenarnya buku ini sudah cukup lama dibaca. Hanya saja saya membacanya dalam terjemahan bahasa Indonesia. Tapi beberapa bulan yang lalu saya mendapatkan ebook buku ini dan ya.. langsung deh kepikiran buat baca ulang versi bahasa Inggrisnya.
Di luar dugaan saya suka pada karakter Nolan yang keras kepala. Tapi dia tidak pernah malu mengakui kesalahan yang diperbuatnya. Walau punpada awal cerita saya pengen me-ngeplak kepalanya karena egonya yang terlalu tinggi. Gengsi banget gitu helikopternya dibawa seorang perempuan.
Kayaknya saya mesti lanjut lagi untuk membaca lanjutan serial ini. The Will To Love yang juga sudah diterjemahkan oleh Gramedia. Soalnya saya penasaran, diakhir buku ini ada sedikit pengantar untuk cerita di buku selanjutnya. Dan kayaknya seru!! :)
@ Medan
15082014